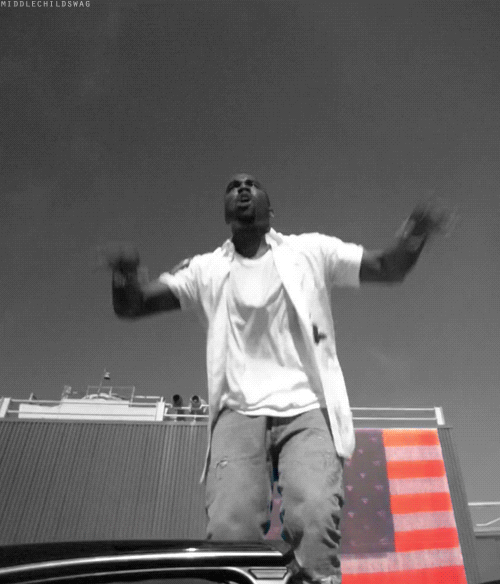 Good morning! Or should I say G.O.O.D morning! Kanye West recently announced over the political platform of twitter that he has plans to run for the 2020 Presidency. For the most part, given that it is already July and the actual campaigning for the Presidency started a while back I took the announcement with light consideration. However toying with the idea in my mind has been utmost entertaining. Let us discuss.
A few days ago I was wrestling with the thoughts of having to cast a vote for another old white man who totally goes against everything I stand for in the pursuit of freedom, justice and equality. As for myself, if that be my only choice, to go to the polls with hopes that some old fogy will do right by my vote. I am totally choosing to stay my BLACK ASS at home. Why? Because no matter which way I vote left or right, I am absolutely sure that BLACK America is in for more of the same and at BEST we are further moving towards the worst. We have never had a true friend of any white man in politics and if we did he got his head blew off. The rest are just all simply full of shit and will pander the community to win votes only to pull the wool over our eyes. Yes BLACK LIVES MATTER! They matter in the amount of the BLACK masses that will show up and show out to push another conservative white male into the highest seat of power in the land.
So when I woke up and read the news on social media that Kanye West announced that he was joining the Presidential race, at first I was like, this guy is trippin! But then I was like, wait a minute. If Donald Trump, who is a complete ignoramus is currently the President and he won that seat without any political acumen. Then there is absolutely a place in this race for Mr. West. As well as a place for any other credible and eligible Black man who wants to run for that position. I've read the posts and tweets of everyone saying that "Kanye West is just a distraction to split the Democratic vote so Trump can win". So what. The absolute truth is that I believe that Joe Biden is going to lose anyway. Flat out lose! He is going to lose just as if this was a fair race and both he and Donald Trump hit the ground running when the gun first went pop. He is going to lose. Just like Hillary did with all of her high hopes. Same as Bernie did with all of his. The Democratic Party just keeps on failing to produce an actual competent candidate. The system is broken.
As long a I have lived I have had to vote for old white men. I know that everyone is going to say "but what about Barack Obama?" And I'm going lump him right in there with the "old white men" category. Not to take away anything from the half of him that has African blood however he was raised in Hawaii by a white mother. So his upbringing was not that of anything close to that of the American BLACK Male raised deep in the inner cities of America from BLACK single parent homes. Being BLACK American is more than the skin we bear on the outside. It is also a shared cultural experience. It's a fraternity of sorts. Hell I know some actual white boys that are BLACKER than Barack Obama. Sue me. I said it. Growing up surfing in Hawaii and then heading to the South Side of Chicago to "organize" is different from having to organize your life after growing up within the confines of the South Side of Chicago where murder is the order of the day. YEEZY did that.
So now comes the second most polarizing figure in America. The ever so talented Mr. Kanye West whom most everyone revered when he was entertaining and making fans dance! When the YEEZY merchandise came out fans rushed to spend their dollars on it and even settled for the bootleg versions if need be! When he sold out Madison Square Garden for "The Life of Pablo" listening party you watched in amazement as he had one of the greatest rap comebacks In history . A historical comeback that was broadcasted live on Facebook and Instagram for the world to see.
When he first came out in the pink Polo rapping about Jesus the people called him REVOLUTIONARY. When "College Dropout" finally dropped it was amazing! He was the Louis Vuitton Don then and every word he said as with every move he made people followed. When he started blogging about the latest clothes, shoes and Japanese fashions on the Kanye University Blog you had NO STYLE. Kanye West is solely responsible for the rise of fashion blogging and influencer trends. Who taught you? YEEZY! That's who! YEEZY taught you!
So what Kanye was drunk off of the Hen Dog and walked up on Taylor Swift's acceptance speech! White America was mad and BLACK America was a tad bit embarrassed at our brother too, but oh well. Still! There is NO WAY Taylor Swift is beating Beyonce in anything unless it is a pancake making contest!
What about the time when Kanye West went off of the television prompt at the Hurricane Katrina Charity event and said "George Bush doesn't care about BLACK PEOPLE" as Mike Myers looked away in complete awe and the entire world's jaw dropped? Who had ever done anything so radical, in the moment and on live television without fear of losing it all? Nobody! Chris Tucker nearly lost it when the camera abruptly cut to him! After that the word was "Kanye is crazy", but then, he was crazy for the people and the people held him down.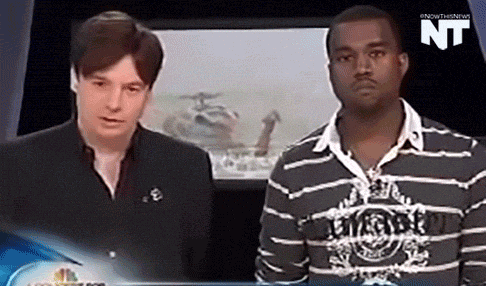 When Kanye's mother died in the midst of the height of his career and he kept entertaining the world, we felt his pain, yet we appreciated his musical genius to be able to transform his pain into something magical. When we watched Kanye West break down in the middle of his "Saint Pablo" tour in front of a live audience we again felt for him, but for the most part we wished he had just dealt with his issues and continued to make great music. We are fans. Loyal to none and selfish to a fault.
After the mental breakdown Kanye West came out on TMZ and said "Slavery was a choice!" WHAT! We had super dooper cancelled him without further notice at that point! When Kanye showed up at the Trump Towers with blonde hair after meeting with Donald Trump the public was suspect, but some people were actually warming back up to him.
And then to put the icing on the cake Kanye West snaps a photo of himself donning a red MAGA hat. At that moment that was the last straw and the Kanye West show was abruptly CANCELLED by EVERYONE! But not for long.
Soon afterwards every celebrity artists worth their salt were hauling ass to Jackson Hole, Wyoming to either meet with, collaborate with or be apart of the listening experience for the new "Ye" album. Which was actually released to lukewarm media reviews. However in the eyes of the public KANYE WAS BACK and YEEZY merchandise once again started flying off the shelves. As a matter of fact throughout all of these ups and downs the YEEZY fashion brand has never really taken a negative hit. So there goes your cancel culture working for you, right? After the "Ye" album Kanye went on to produce several more pretty well received EPs from collaborating artists such as Nas, Kid Cudi and Pusha T. This move brought the Kanye faithful's back in full swing as well as had the Kanye haters back on his wood again. I'm not even gonna pause that. A lot of folks were swallowing the YEEZY hotdog like a true glizzy gladiator. Real talk. For a lot of folk though, they still weren't thoroughly convinced that Kanye could ever make a real comeback from his cultural mistakes. I myself was one of the main people on the "I'M THROUGH WITH KANYE" wave. I hadn't previously listened to either the "Ye" album or either of the collaborative EP's. I was thoroughly happy being done with Kanye, he was wilding out and besides that I never could afford YEEZY's or YEEZY Brand gear anyway!
And then KANYE WEST COMES OUT WITH THE BIGGEST ANNOUNCEMENT OF HIS CAREER! Kanye West comes out and says that he denounces all of his past music of the secular world and is now only going to perform new gospel music or gospel renditions of his old music! Just months after releasing one of the most embarrassing and misogynistic songs of his career, "I Love It", alongside Lil Pump which featured the catchy sing along styled hook of "I'm such a fucking hoe I love it!" The man Kanye was back with a new plan and a renewed faith. He started doing gospel renditions of his old material as well as gospel covers of popular songs re fashioned for his Sunday Service church events all over the country and people came out in droves. Some even following each Sunday Service from state to state. As far as the Christian and religious world went, Kanye was ALL G.O.O.D with them.
Topping things off. In October of 2019 Kanye West released his debut gospel album "Jesus is King", vis Def Jam, which was met with lukewarm reviews, but still opened at the number one spot on the charts with 264,000 units sold. "Jesus is King" gave Kanye his ninth consecutive number one album tying the record with America's greatest White rapper Eminem.
The YEEZY fandom was back in full swing only this time to a slightly different tune. The church mothers and the secular fathers were stretching their hands to the skies to do their rhythmic church claps. I saw it for myself, no lie. I still haven't heard the "Jesus is King" album in full but my homie DJ Snack Daddy did let it ring out a few times at the Fiserv Forum during Marquette's Basketball season and Markus Howard put up 40 over his opponents that night so there had to be some power to it. The gospel album dropped and everyone seemed cool with Kanye again. New YEEZY's dropped and people rushed to cop. People even went out of their way to cop the foam funny looking joints and the jail slides. Travis Scott dropped a Kardashian baby along with a documentary, Kanye rolls through in the eggshell Tesla. NBA All Star Game in Chicago. No Kanye performance, no problem. Who was sitting court side clean as a preacher on Sunday morning though? Kanye West! And he was getting all of the love, all of the media attention, photo ops and celebrity high fives. All while rocking a pair of expensive shades and looking unbothered by it all.
The world had by far forgotten about drunk Kanye on the red carpet with the Hen Dog. The world had forgotten about Kanye calling out George Bush on live television. The world had forgotten about MAGA hat Ye, choice slavery Ye, such a fucking hoe Ye, bipolar Ye, Kanye being Kanye, Ye. The world just did as the world does and kept on turning. The culture was too pissed off at R Kelly at the moment anyhow and was dead set on cancelling him. Bad Ye was old news.
And then, seven months later Kanye West makes yet another alarming announcement. After the death of George Floyd on May 25th, 2020, Kanye West announced that he would set up a fund to cover the costs of George Floyds 6 year old daughters college education as well as contribute to other social justice organizations and to help cover the legal fees for families of Ahmaud Arbery and Breonna Taylor. All deeds totaling in the amount of around 2 million dollars. That was huge news but went across as a small blip in the media cycle. When a BLACK MAN does some bad it is blasted all over the place but when a BLACK MAN does some good, no words. Besides at that time everyone was either in some sort of shock after being safe at home for months or immediately in rage and taking to the streets.
Speaking of taking it to the streets in early June Kanye West was spotted in Chicago at a George Floyd protest in the midst of the people. Not speaking, not drawing any attention. Just in the crowd like everyone else, being lowkey and showing support. Not too bad for a guy whom just a year and a half ago was contemplating on how to re brand the MAGA brand for his own purposeful use.
It took us a moment but we are finally here and here it is! Earlier this week Kanye announced via twitter that he is planning to run for the 2020 Presidential election. And like I mentioned earlier I think the idea is far fetched at the moment but this is AMERICA and anything can happen. Think it can't? Japanese murder hornets, Mexican kids locked in cages at the border, global pandemic. Anything can happen. Besides. What is the worst thing that can happen from a Kanye West Presidency. Someone said to me "I don't want no Kardashian's in the White House!" Well we currently have Melania as our First Lady who does absolutely nothing. She's pretty much been missing in action these past few years. At least I can objectively say that Kim Kardashian has been helping to assist free people from prison and is said to be working towards a law degree. Thats a plus.
In this generation of identity politics where no one reads (and I applaud you if you've gotten this far) we don't want a leader! We want someone who tells us what we want to hear and looks good while doing it! Who better than Kanye West to fulfill that? At 29.6 million twitter followers that is sure enough digital pull to haul in a major amount of votes. He shouldn't even need to campaign much. All he has to do is drop that new "God's Country" album along with some new YEEZY merch and the game is over. You know that's what you want America! To survive these cruel summers and bask in the glorious life of Pablo. America wants and needs a leader with the capabilities to "Watch the Throne" all while forgiving the student loans of all of the college dropouts!
Imagine a YEEZY 2020 Adidas/Def Jam sponsored Presidential inaugural ball. We are talking about THE BLACKEST, South Side of Chicago-ist, Harold's mild fried, soul beat seasoned, throw your hands up high in the sky Presidential inaugural ball in the history of America! I can already hear T-Pain singing in the background. 2 Chainz would finally get that visit to come to the White House that he wanted to receive when Obama was in office. King Push would finally get to legally oversee America's drug problems and Consequence still wouldn't quit his day job because he'd probably have another overseeing the nations literacy problems. It could be all G.O.O.D!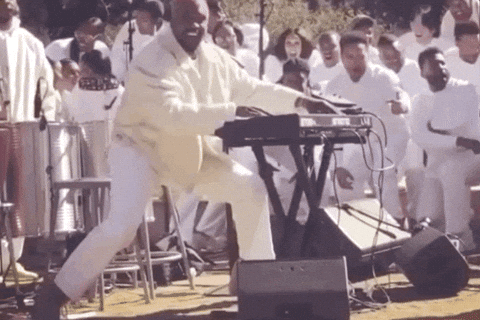 One thing that threw me for a loop within this whole dark twisted fantasy was that as soon as an eligible BLACK MAN says that he wants to run for the Presidency of the United States. The whole world goes in an uproar and says that he is crazy! Perhaps any BLACK MAN in America from the inner city is crazy to think that they can be President of the United States. Simply because it has NEVER happened. So any obvious attempt at anything that has never been achieved can be perceived as crazy. I was really set back by all of the white liberal BLACK LIVES MATTER people who were so fast to throw Kanye under the bus. A BLACK MAN. AND YOU SAY BLACK LIVES MATTER? Yeah, cute yuppie bumper stickers and yard signs. Yet, in this moment of BLACK LIVES MATTER we should outright not pay any attention to the BLACK MAN who has aspirations of being this nations President and throw all of our hopes behind some old mumbling, senile, goofy ass, ofay that has to squint to read the teleprompter when he reads. To me that is just plain crazy. As well, it is a very white supremacist frame of thought. America would rather throw all caution to the wind and vote for the 70 + year old white man. However when asked to FATHOM the thought of casting a vote for the 45 year old BLACK MAN! Absolute NO! It is so very true that when a BLACK MAN dances, sings, entertains or catches a ball the whole world is behind him but when he starts to think freely for him self America reveals its ugly face again.
I'm not saying that Kanye West is the best man for the job, but when compared with the two choices that we currently have he's not looking so bad. I think the main problem that most have with his decision to announce a run for the Presidential bid is that he is in fact too BLACK. People have made mention to his public bouts with bi polar mental illness. These same people have absolutely no clue how hard the everyday reality is for the BLACK Man in America, less on how hard it is for a celebrated BLACK Man in America. Those daily BLACK man pressures along with the pressure to entertain the world, record hit after hit and fulfill contract obligations while touring have to be monstrous. To do that all at a high level for a 10 plus year period without a break would drastically tax anyones mental. Think about it.
If we were bringing up Kanye West's past we also must look at the pasts of the two leading candidates whom both have a way more negative past than YEEZY. We're not going there today though. If we're bringing up past participation in American politics, for one Donald Trump had zero previous experience and second, Joe Biden has major skeletons to repent for in his political closet.
America seems to only love the BLACK MAN when he is busy singing, dancing, running, catching, dribbling and entertaining. Soon as the BLACK MAN builds himself up to a level where he can make change and start thinking freely for himself. Then his he the villain. Not only is he the villain, he is s the most vile of villain's. A hysterical villain. A madman! As a matter of fact! THE NIGGA MUST BE CRAZY!